Small Business Saturday
Food Trucks on the Square 10AM-2PM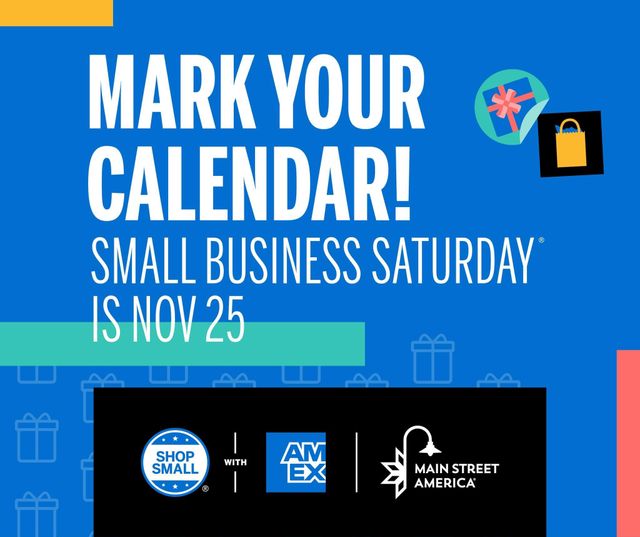 Description
For the 2nd year in a row, Fayetteville Main Street is proud to announce that we have been recognized as a Neighborhood Champion by @americanexpress and will partner with them as part of the Shop Small® Movement!

Shop Small® is a movement that supports small, independent businesses and spotlights their valuable contributions to their communities and the economy.
The Shop Small movement was inspired by the widespread participation in Small Business Saturday®, a day founded by American Express in 2010 on the Saturday after Thanksgiving.
Now a national holiday, Small Business Saturday is dedicated to celebrating small businesses by helping to drive
more customers through the doors of retail stores, restaurants, fitness studios, salons — and everything in between.

Mark your calendars, this year it falls on Nov. 25th, and Main Street will be hosting food trucks downtown! Permitted to serve 10-2.
10-2 Current Food Trucks Registered:
Jeanette's Funnel Cakes
Jessie's Flour Sack
Just Slawburgers
Montana Coffee Company
Sherrie's Kitchen
Tennessee Texas Twister
Christmas Carols presented by Magic Voice Studio from 12-1 on the bandstand!
DOWNLOAD this PDF Local Shopping Guide before you head out for the day!
Anna Phillips Designs - 30% off HOBO + a gift with every purchase and snacks (Open 10-4)
Backstage Performing Arts - 20% off logo wear (excluding jackets and backpacks). Everyone that makes a purchase will be entered for a $50 gift certificate (Open 10-1)
Buckley Farm - 10% off ALL Buckley Farm soap and skincare products + 20% off beef ribs, beef brisket, and St. Louis style ribs (Open 10-2)
Bumblebee Baby & Kids - 15% off your entire purchase + free gift with $25+ purchase while supplies last (Open 10-2)
Carousel Horse Antiques & Décor - Open 10-4
Carter's Drug Store on the Square - First customer will receive 50% off one Christmas item + select discounts on Christmas & gift items for all (Open 8-5)
Definitely Different at Carousel Horse - Open 10-4
Elk River Trading Company - Open 10-4
Elk Valley Nuts - Open 10-8
Ivy Wreath Florist & Gifts - Open 8:30-4
Java Road Espresso Bar & Café - Open 8-1
Kudzu's Antiques & Gifts - First customer to receive a special discount + 20-50% Christmas items for all (Open 10-5)
Lawson's Department Store - Open 9-5
Mercantile on Market - First customer will receive 25% off their entire purchase + 15% off the entire purchase for all customers (Open 10-2)
Merle Norman Cosmetics Studio - Open 10
Norman's Furniture & Design - Open 9-6
Pilaroc Farms - All Toys - 15% OFF + All Childrens Books - 15% OFF + All Adult Books - 15% OFF + All Skin Care - 20% OFF + All Spice Sets - 20% OFF + All Crickets!! - 5% OFF + Piper & Leaf Brew & Boba Kits - 30% OFF + All Candy & Chocoate in the store! - 10% OFF (Open 10-4)
Sissy's Antiques & Interiors - First customer to receive 25% off their purchase + select vendors will have special sales for all (Open 10-5)
The Book Inn - First customer to receive a free book with purchase + 15% off children's books + 15% off cookbooks + 50% off all classics for all! (Open 10-3)
The Tigress - Open 10-4
West Side Antiques - Select dealers will be offering special discounts in their booths (Open 10-5)
Whiskey Rose Boutique - 25% off all clothing, purses, bags, jewelry, & accessories + 30% off all shoes + 60% off all Christmas decor + 70% off all other decor (Open 9-3)
Young Vintage - First customer to receive 20% off purchase of $30 or more + 15% off to all those that mention Small Business Saturday (Open 11-5)
Fayetteville Main Street
100 Main Avenue N, Suite 1A, PO Box 162, Fayetteville, TN 37334
10:00 AM CST
to 2:00 PM CST