Slawburger Festival 2023 planning is under way!
---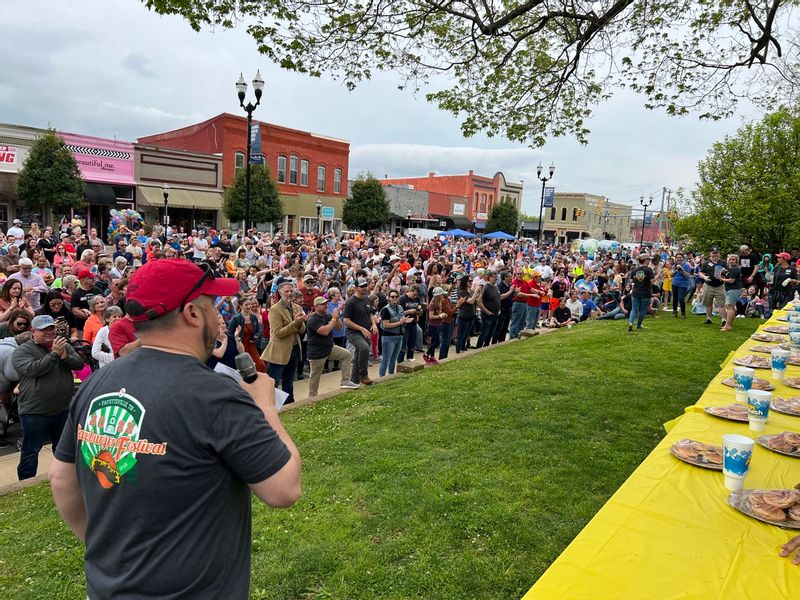 A crowd gathers to witness the 2022 Slawburger Festival Eating Contest.

Fayetteville Main Street presents the Slawburger Festival in Fayetteville, Tennessee–home of the Famous Slawburger. Fayetteville is nestled in the heart of Southern Middle Tennessee, south of Nashville, TN and just north of Huntsville, AL. Our town has a rich history with the unique sweet and tangy mustard-based slaw served on an all-beef burger. The festival serves as a way to share those stories, create new memories, or revisit old ones from the past. Come visit us on April 15th, 2023 at the Historic Fayetteville Downtown Square for the 8th Annual Slawburger Festival.
VENDORS & SPONSORS
We are actively seeking sponsors and registering vendors everyday. A list of sponsors and vendors will be updated on the website weekly. All registrations will be ONLINE ONLY!
REGISTER TO BE A SBF23 SPONSOR

ENTERTAINMENT
Throughout the day, contests for all ages (even pups!) will take place on the bandstand and on the Southside of the courthouse. A beer garden will be open from 11AM-5PM. At 2PM, Country Artist Shelby Lee Lowe will open for the classic rock band 4 Miles Gone.
WHAT TO EXPECT
Come prepared to have fun all day! Sunscreen and folding chairs are recommended!
There will be lots of activities for kids and fun for all ages!
A full schedule of events is available on our newly rebuilt website and event cards can be found at businesses throughout the community.

NEW WEBSITE
We just launched a new website through Fynyty Media, and we are working on the fine details. Let us know if you encounter any issues or what you want to see on the website!