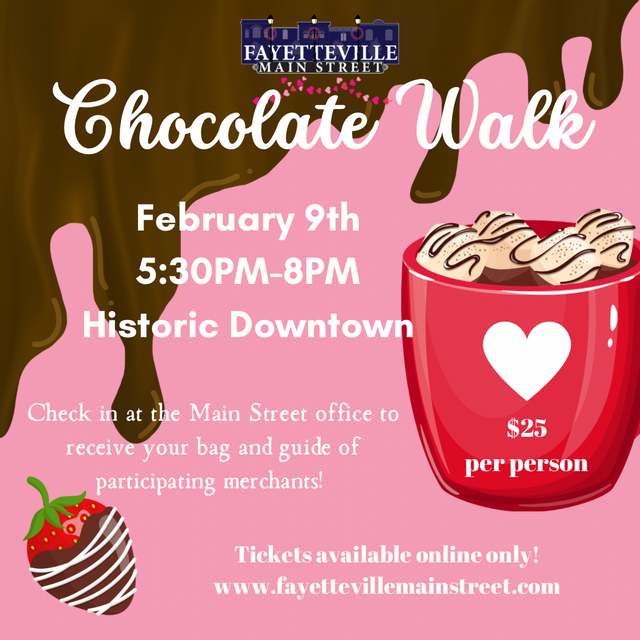 Description
This self-guided tour will begin at the Main Street office beside On the Corner Nutrition. You will receive a paper bag, wristband, and map of participating merchants.

Any square merchant can participate! Merchants will provide something chocolate to consume in the store or take home. This event is ONLY for ticket holders!
Current participating merchants (more to come!):
Anna Phillips Designs with Puppy Love Dog Treats
Artfully Inspired - Candy Cups
Beautiful Me Boutique
Bumblebee Baby & Kids - Hot Chocolate
Dragonfly Gallery & Design - Brownies
Ivy Wreath Florist & Gifts - Valentine Confetti Candy with a gourmet gift basket giveaway, Chocolate Ice Cream Punch, and Red Hearts
Kudzu's Antiques & Gifts - Chocolate Wine and Chocolate Cake Shooters
Lawson's
Mercantile on Market - Tastings of Hammond's Chocolate Bars
Merle Norman Cosmetics Studio - Open til 7PM
Norman's Furniture - Chocolate and Raspberry Trifle Shooters and a $250 Shopping Spree Giveaway!

Rocket City Popperz Pop-Up in front of Carter's Drug Store - Chocolate Covered Popcorn with a Three-Pack Gift Basket featuring their Valentine Flavors

The Book Inn with Roma's Petals - Cake Pops & Truffles with a VeryVera Cookbook Giveaway
The Skin Refinery
Timeless Treasures
West Side Antiques
Whiskey Rose Boutique
Young Vintage
Fayetteville Main Street
100 Main Avenue N, Suite 1A, PO Box 162, Fayetteville, TN 37334
5:30 PM CST
to 8:00 PM CST
RSVP Required
Accepting Online Registration