Fayetteville Main Street Partners with Proof Incubator to Host Events in Support of Local Food and Beverage Entrepreneurs
---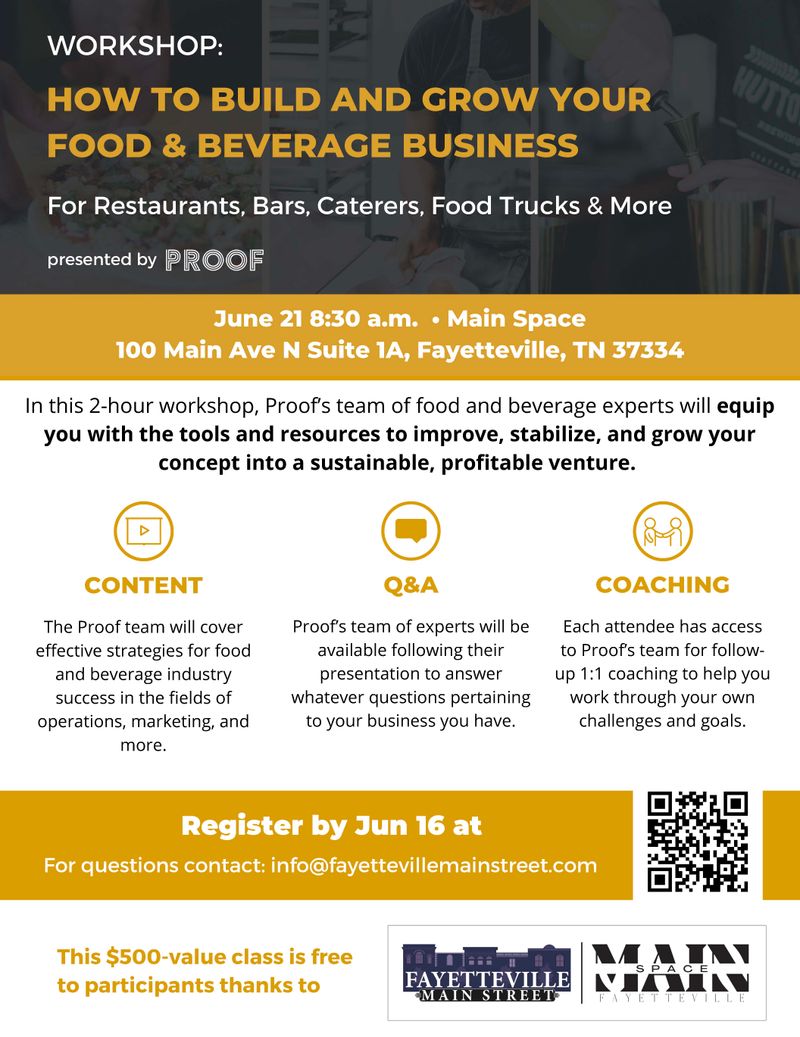 Community leaders, restaurant operators, industry veterans and coaches will gather to discuss strategies and methods of overcoming challenges that are common to Tennessee restaurant entrepreneurs and building sustainable businesses.
Fayetteville Main Street has partnered with Proof Incubator to launch a food and beverage program with two events that will bring together local restaurant operators and business leaders. A special training session will be held on June 21st at 8:30 a.m. to introduce operations, finance, and branding strategies for entrepreneurs in the food and beverage industry. Immediately following, community leaders, business owners, and ecosystem builders will gather for an open conversation led by Proof on how to strengthen and support growth in the local food and beverage industry.
Fayetteville Main Street Executive Director Aimee Byrd says, "We are very eager to begin this program with Proof to strengthen current businesses and grow the food & beverage industry here in Fayetteville and Lincoln County. We are very honored to receive the TN Placemakers Grant to facilitate further community improvement."
Both introductory events will highlight industry issues such as staffing challenges, access to capital, standing out against competitors, and branding yourself on social media. Proof will provide tools and dynamic strategies that their coaches have developed through decades of experience in the food and beverage industry.
"We're very excited about this partnership with Fayetteville Main Street. The food and beverage culture in Fayetteville is rich in growth potential, and we look forward to working side by side with these business owners and community leaders to increase profitability, refine operating models, and better connect with customers for sustainable growth." said Mike Robinson, CEO and co-founder of Proof Incubator.
It's a commonly known fact that 60 percent of restaurants fail in the first one to five years. Many restaurant entrepreneurs are still dealing with post-pandemic challenges and with rising food costs and changes in the labor force, food and beverage operators can find it very difficult to navigate the path to growth in this industry. That's why Fayetteville Main Street is partnering with Proof Incubator to provide these opportunities for entrepreneurs, not only to receive information from Proof, but to collaborate with their peers.
Access to resources, tools, and funding paths paired with access to industry expertise and connections, are key ingredients for shared success for the small business community.
Interested restaurant operators and community leaders can register for these events on Eventbrite at bit.ly/fayettevilleProof and bit.ly/fayetteville2Proof.
About the TNECD/Main Street Program
The nationally-accredited Fayetteville Main Street program has been an active and vital part of the Community since 1990. Main Street revitalization is a comprehensive, incremental, self-help economic strategy that focuses on developing public-private partnerships in order to enhance community livability and job creation while maintaining the historic character of the district.
About Proof Incubator
Proof partners with ecosystem stakeholders to cultivate diverse and dynamic food and beverage scenes in their communities and empower their entrepreneurs to build better businesses. Proof offers many programs ranging from Restaurant Accelerators to Consumer Goods programs, workshops, and webinars. To find out how you can collaborate with Proof to support businesses in your local business ecosystem, visit Proof.Proofincubator.com/engage.
###
To learn more about Proof Incubator, visit https://Proof.Proofincubator.com/
Proof Incubator contact: Mish Hughes | [email protected]