The program will offer hands-on support and growth tactics for local business owners of restaurants, food trucks, caterers, and other food-service businesses
---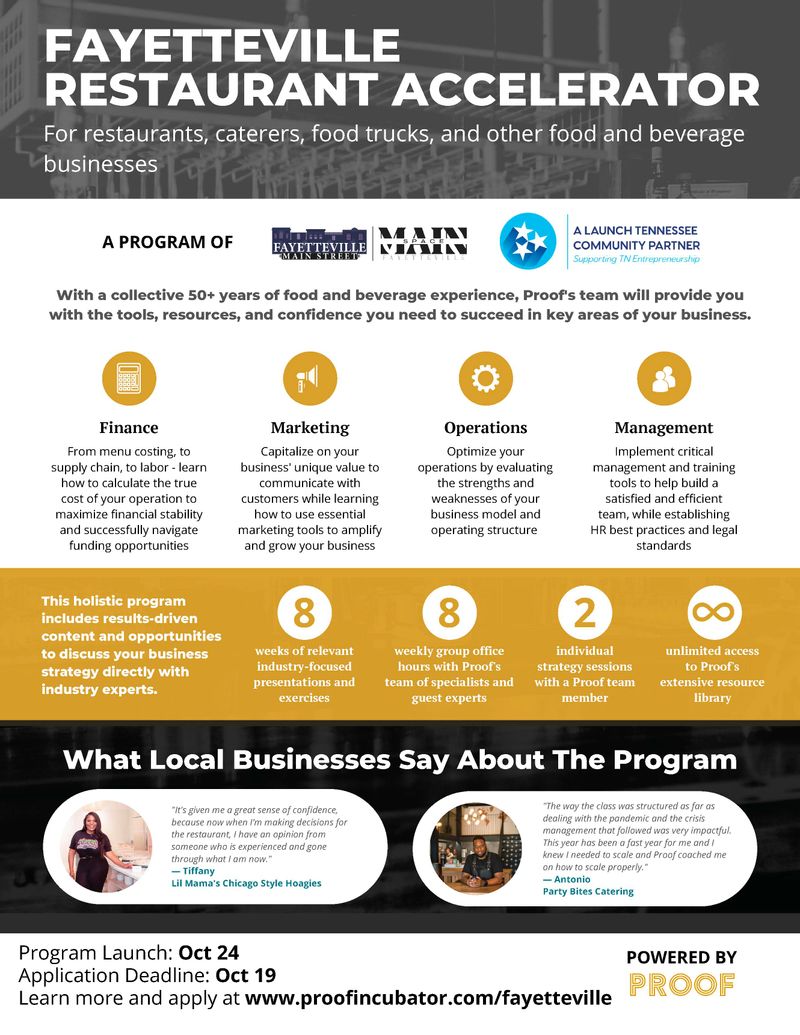 Fayetteville Main Street is launching a new program, the Restaurant Resilience Accelerator, on October 24, 2023 in partnership with Proof Incubator. The 8-week program offers support for entrepreneurs in the food-service industry, from restaurants to food trucks to caterers.
"The top 3 concerns of citizens in a community survey from 2022 were related to food & beverage, so we are targeting this concern with our partnership with Proof Incubator. Between the TN Placemakers Grant and the LaunchTN Grant, Fayetteville Main Street is investing $40,000 in our community to offer FREE programs for food & beverage entrepreneurs," said Aimee Byrd, Director of Fayetteville Main Street.
Fayetteville Main Street was selected for LaunchTN's Community Partner Program making this restaurant accelerator and many other entrepreneurial support projects possible through their financial support. The program provides the tools and resources to help entrepreneurs adjust to the ripple effects of today's economic climate and other industry challenges, as well as customers' changing needs and expectations.
The curriculum covers major business areas such as food costing, employee management, marketing, funding, and more. In addition to the program curriculum, participants will have access to experienced industry professionals from Proof Incubator's network who will provide coaching from a wide range of business specializations.
"We're very excited about this partnership with Fayetteville Main Street. The food and beverage culture in Fayetteville is rich in growth potential, and we look forward to working side by side with these businesses to increase profitability, refine their operating models, and better connect with customers to make their plans for growth a reality." said Mike Robinson, CEO and co-founder of Proof Incubator.
It's a commonly known fact that 60 percent of restaurants fail in the first 1 to five years. With rising food costs and changes in the labor force, food and beverage operators can find it very difficult to navigate the path to growth in this industry. That's why Fayetteville Main Street is partnering with Proof Incubator to provide concrete and easy-to-follow strategies to promote growth, create dynamic teams, better connect with customers, and achieve their goals.
The access to resources, tools, and funding paths paired with access to industry expertise and connections, are key ingredients for shared success for the small business community.
Interested restaurant owners and operators can learn more about the program and submit an application at proofincubator.com/fayetteville. Applications must be submitted by October 19, 2023, and the kickoff for the program is slated for October 24, 2023.
LaunchTN's Community Partner Program
This program was made possible through LaunchTN's Community Partner Program award. The Clarksville TSBDC's Restaurant Accelerator was awarded as one the select projects statewide to receive LaunchTN's Community Partner Program award for this cohort.
The funding made it possible for local restaurant entrepreneurs to receive the training that they need for efficient operations and a sustainable future.
About the Fayetteville Main Street
Fayetteville Main Street has been an active and vital part of the Community since 1990. Main Street revitalization is a comprehensive, incremental, self-help economic strategy that focuses on developing public-private partnerships in order to enhance community livability and job creation while maintaining the historic character of the district.
www.fayettevillemainstreet.com
About Proof Incubator
Proof partners with ecosystem stakeholders to cultivate diverse and dynamic food and beverage scenes in their communities and empower their entrepreneurs to build better businesses. Proof offers many programs ranging from Restaurant Accelerators to Consumer Goods programs, workshops, and webinars. To find out how you can collaborate with Proof to support businesses in your local business ecosystem, visit www.proofincubator.com/engage.
###
To learn more about Proof Incubator, visit https://www.proofincubator.com/
Proof Incubator contact: Mish Hughes | [email protected]