Fall in Love with Fayetteville Festival
Outdoor Market on the Square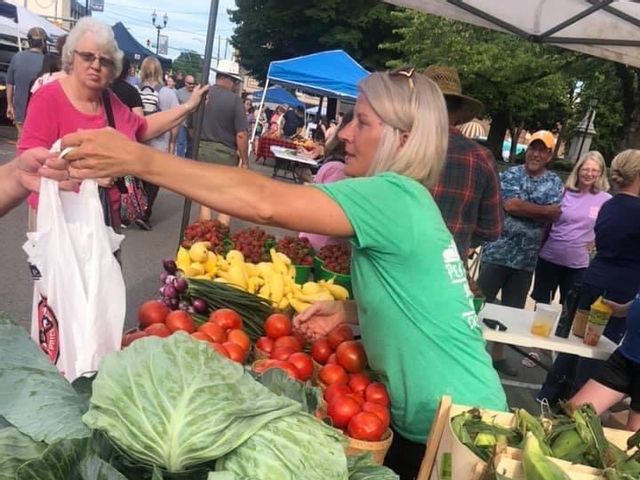 Description
First Saturdays is an outdoor market held on the first Saturday of each month from April to October in Downtown Fayetteville, TN. The event is a vibrant and bustling community event that brings together farmers, artisans, and locals.
The market features a variety of vendors selling locally grown produce, handmade crafts, baked goods, and other artisanal products. You may also find food trucks selling all types of foods, such as kettle corn, loaded potatoes, barbecue, hamburgers and hotdogs, walking tacos, shaved ice, cajun seafood, and more!
Small town markets are often a place for locals to connect and catch up with each other. You may see families with children, groups of friends, and seniors chatting and enjoying the community atmosphere.

One visitor said, "I looked around tonight and did not see one person with a phone. I saw smiles, hugs, laughter, and communication. Tonight I saw friends, family, neighbors, and a community come together sharing joy, hope, healing, and love."
Some months we may feature live music or other forms of entertainment, such as dance performances.
The types of produce and products available will vary depending on the time of year. In the summer, you might find fresh berries, peaches, and tomatoes, while in the fall, you might find pumpkins, squash, and apples.
One of the main objectives of First Saturdays is to support our downtown merchants, local farmers, and artisans. Shopping at First Saturday is a way to support your local community and get fresh, locally grown food and handmade goods.
Vendor registration for each event will open on the 15th of the month prior within the calendar event located on the Fayetteville Main Street website.
If you intend to register to be a vendor, please read the updated guidelines prior to registering.
For this event, we hope that all vendors will have a fall festival game or candy for kids to trick-or-treat the square!
If you are selling food made at your residence, please take note of TN State Law. All products must be labeled with the following: producer's name, address, phone number, common name of food, ingredients, and disclaimer: "This food was produced at a private residence that is exempt from state licensing and inspection. This product may contain allergens."
Fayetteville Main Street
100 Main Avenue N, Suite 1A, PO Box 162, Fayetteville, TN 37334
9:00 AM CDT
to 2:00 PM CDT
Accepting Online Registration