Spirits with the Spirits
Tales from the Past; Stories from the Present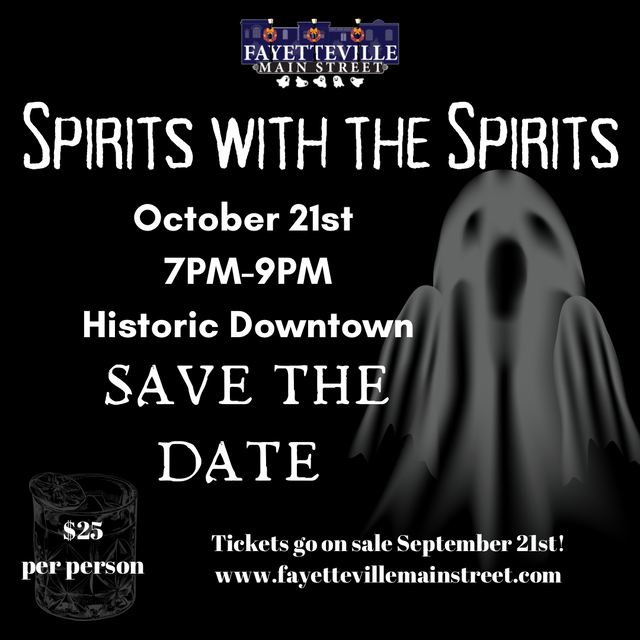 Description
Take part in the inaugural Rose Hill Cemetery Stroll, a captivating event running from 10 AM to 1 PM. Following a well-deserved interlude to catch the excitement of the significant 3rd Saturday game, immerse yourself in the charm of Historic Downtown Fayetteville during this cherished annual walking tour. Commencing at the Main Street office within the KP Building, the guided tour will usher you in groups to various establishments encircling the square. Notably, this year's itinerary boasts a series of fresh stops, each brimming with history and eerie anecdotes, brought to life by live actors interspersed between destinations. Enrich your experience with delightful refreshments and beverages as you traverse the path.
Admission: $25 per individual
Check-in and Starting Point: Knights of Pythian Building, 100 Main Ave N, Suite 1A, Fayetteville, TN 37334
Additional Stops: Ivy Wreath Florist & Gifts, The Skin Refinery, Kudzu's Antiques & Gifts, Sissy's Antiques & Interiors, and Whiskey Rose Boutique.
And be sure not to overlook the exclusive BONUS TOUR following the enchanting Spirits with the Spirits experience!
Fayetteville Main Street
100 Main Avenue N, Suite 1A, PO Box 162, Fayetteville, TN 37334
7:00 PM CDT
to 9:00 PM CDT
RSVP Required